Plan Your Successful Event With Us
4 Exhilarating Game Modes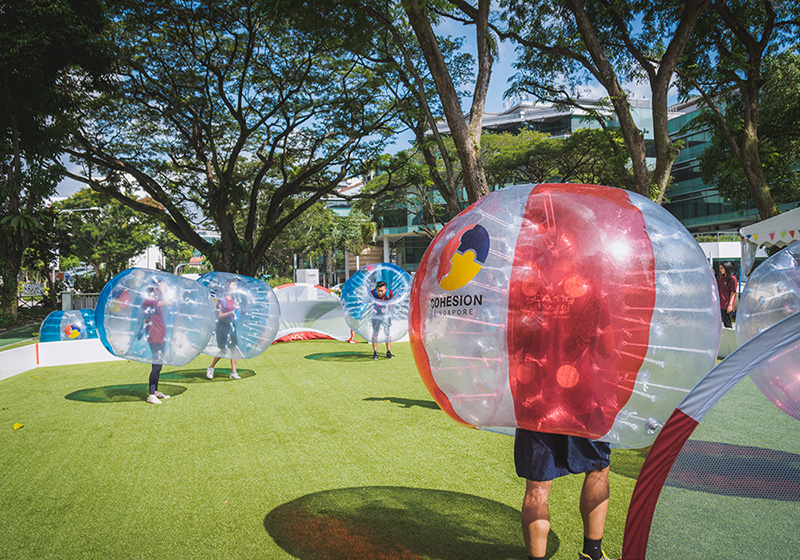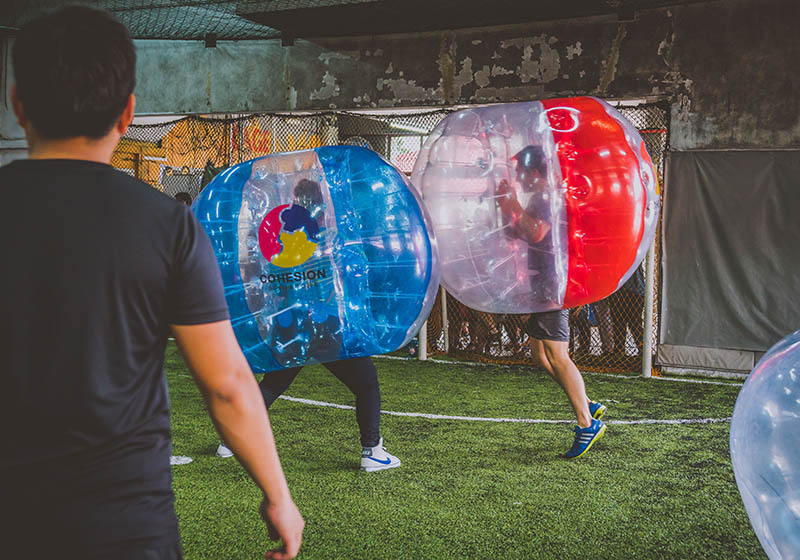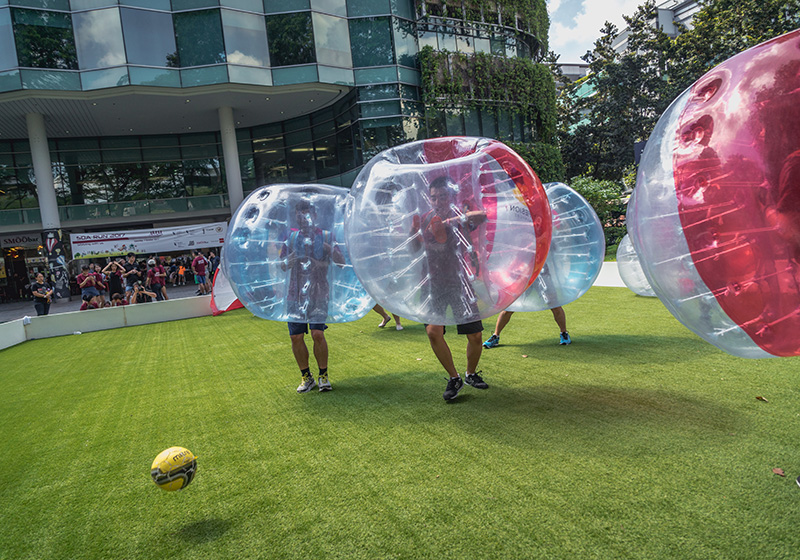 WE FOSTER EDUCATION
We believe in games that will allow our customers to learn something new from every session. That is why each Bubble Soccer session features 4 bubble game modes with an objective to cultivate soft skills.
---
INSPIRE FRIENDLY COMPETITION
On top of interesting game modes, we are constantly chasing after innovation to ensure our bubble games are relevant to every customer group, from the corporate teambuilding to casual birthday parties.
We carve ideas
At Bubble Soccer, our innovative and experiential game styles allows our customers to plan and devise out-of-the-box strategies in order to win the games.
---
We Create Fun
Most importantly, Bubble Soccer Singapore believes in achieving our client's objectives while delivering fun in the process. All our games have been tested and revamped until we have settled on the games that are enjoyable to all.
Clients
Bubble Soccer Singapore is proud to have completed multiple large scale events for our valued customers. We bring Bubble Soccer to you with a different slant.
Our Snapshots
---



Hear Our Raving Customers
I have never tried this sport before and I'm so glad my first game was with Bubble Soccer Singapore! They were great from the start, in every briefing and game that eased us into getting used to the bubble armour. I've never bounced so much in my life, laughing to victory! The coaches are fantastic, friendly and generous with suggested strategies. Thank you so much, can't wait for the next one!
- Annalisa Yeo
TESTIMONIALS
Find out what the industry and our students think of our programmes
Randy Lai
RSAF
"I would live to thank Bubble Soccer Singapore for an amazing experience! Great and friendly facilitators, great games to keep everyone entertained and lastly, a great workout for everyone. Would definitely recommend this to anyone who is looking for a workout and a fun time!"
Steffi Goh
temenos Group
"Ian and Damien were wonderful in helping me to organize my corporate event. We all had great fun charging and knocking each other down in our bubble suits! An awesome way to get away from our desks, unwind and connect with our colleagues! Highly recommended as a corporate event :)"
Alicia Ong
Evento
"Excellence service provided, my guys had a fun filled and enjoyable day."
SEAN WEE
Orchid Park Secondary School
"The activities conducted by them are good! Their debriefs are also done well. Flexible in changing the time for events though it's just a few days away from the event. Will contact them again for future events. Thanks for the time!"
Zhiyi Chew
Public Session
"Was a good experience with my group of friends! Highly reccomend this for big groups if looking for something to do as a group. A good work out while having fun :)"
Why customers choose us
---
We're more than just a Bubble Soccer company. Bubble Soccer Singapore provides quality facilitation as well as events management services, ensuring your event is a smashing success.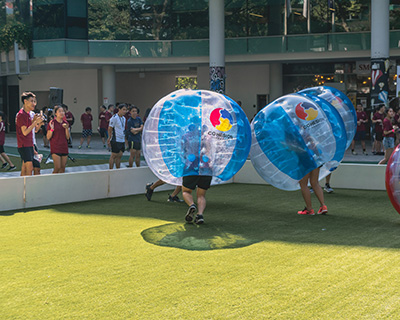 ---
Quality Equipment
---
Our Bubble Soccer suits are maintained before and after each match to ensure you are only playing with the best. We follow a stringent cleanliness regime as well as conduct safety checks to ensure you're given a smashing good time with Bubble Soccer Singapore.
---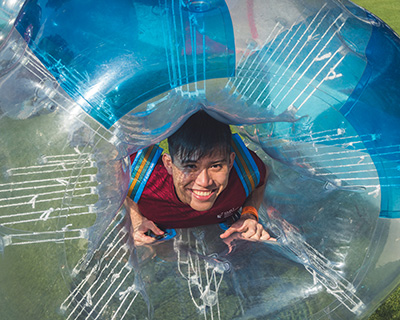 ---
Innovative Games
---
At Bubble Soccer Singapore, we don't just play Bubble Soccer but we also play other unique variants of Bubble Soccer. Our range of exciting and engaging gameplay keeps the Bubble Soccer session interesting and is great for team building or just casual bonding with friends. Find out more about our games at our Why Us? page.
---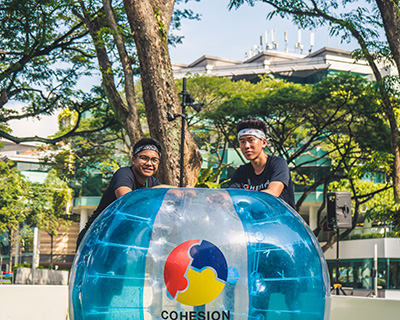 ---
Trained facilitators
---
Our Bubble Soccer Singapore facilitators goes through a stringent assessment session before being trained to lead our sessions. You can expect professional and quality facilitation from the Bubble Soccer Singapore facilitators. Our facilitators are always willing to go the extra mile for our clients.
Physical Games
Ready to engage your friends and colleagues in a test of physical prowess? We have crafted our own Bubble Soccer games that will see who emerges as the strongest victors!
A real test of strength
Ready to smash your enemies? Find out more about Bubble Soccer Singapore and our innovative games here!
Play Different!
Strategy Games
Are you looking to overwhelm your opponents using your brains? We have game modes that will test to see who is the smarter Bubble Soccer contender.
The Challenge of Brains
Ready to outwit your enemies? Discover our exciting game modes here!
Play Different!
When
Open daily, even on public holidays
---
Where
2 Whitley Road Or, anywhere you need us to be
---
How
Fun and Engaging for the young and old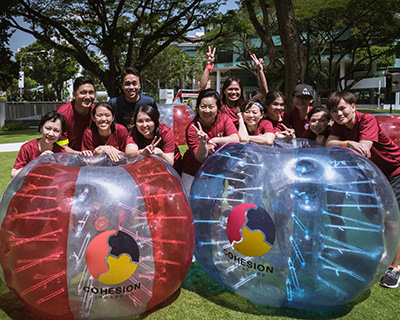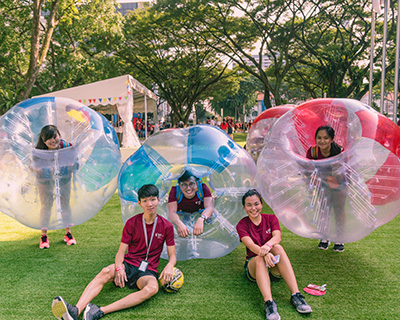 What is bubble soccer?
Bubble Soccer is an international craze that has reached Singapore's shores. It is played like any five-a-side soccer and follows the rules of soccer loosely. Players are, however, required to put on an air inflated bubble suit that will not only protect them but also test their physical endurance. Bubble Soccer Singapore is supported by the International Bubble Football Association that is based in Germany. Bubble Soccer is soccer with a unique twist: Each player dons a giant plastic bubble soccer suit. This makes for an entertaining session of watching your friends or colleagues get knocked over.
A Game For All Occasions
Bubble Soccer Singapore is the largest provider of Bubble Soccer Games in Singapore. We have a host of Bubble Soccer games which caters to both the young and old. Our most popular bubble soccer games include Bubble Soccer, Bubble Invasion, Bubble Captain and Bubble Dodgeball. We also cater to kids with our kid-sized suits. Experience the best of Bubble Soccer with Bubble Soccer Singapore today!
Our Events
Find out more about the Bubble Soccer events we have hosted.
ABOUT US
---
PERFECT FOR TEAM BUILDING
At Bubble Soccer Singapore, we don't just play Bubble Soccer. Our games ranges from strategy-based gamemodes to all out mindless fun of knocking your friends and colleagues over. We also support Laser Tag, Archery Tag and Dodgeball to make your team building session ever more enjoyable.
CAN'T WAIT TO EXPERIENCE BUBBLE SOCCER?
We love collaborations, partnerships or people simply wishing to talk to us. Contact us at [email protected] for more details now!
CONTACT US
We're the best in the business.
Fill up the online booking form for us to get enough information to craft a full unique proposal for you.
If you're in a rush or have non-booking matters, you got the form on the right 🙂
Online booking form
[contact-form-7 id="1002″ title="Contact form 1″]
MEDIA AND PRESS
Check out what others are saying about Bubble Soccer Singapore by clicking the words below. Interested in featuring us? Reach out to us at [email protected]
Our Partners
Together with our strategic partners, Bubble Soccer Singapore delivers value to our customers by offering a unique team bonding experience.
Bubble Soccer Singapore has a strong team building programme that is supported by Cohesion.sg as well as our partners. If you would like to hear more about our programmes, please write in to [email protected] for more details. We promise you a scintillating and engaging team building session with us.